If science and Scripture have some superficial conflicts but no deep conflicts when viewed from the ultimate perspective of wisdom, then we need to think carefully about the various claims of science and the Bible that appear to be in conflict. Are these apparent conflicts due to the limitations of the science perspective or due to our interpretation of Scripture? We need to be careful because sometimes our first attempt at finding a deeper unity might not be correct.
Twinkle, Twinkle Little Stars…
It wasn't until I was a freshman in high school that I started really reading and studying the Bible for the first time. I had just recently become a believer through the ministry of a local church. They called themselves Bible believing fundamentalists and so I was taught a literalistic or "plain-language" reading of Genesis. According to a literalistic reading, Genesis provides a chronological account of a six day creation.
My freshman year in high school was also the year that we had Earth Science. I remember learning about the solar system and astronomy. We learned about the stars and, especially relevant for this discussion, we learned about light years and the distance of stars from earth. So right off the bat in my Christian life I was confronted by the tension between a "plain-language" interpretation of Genesis and the current scientific consensus regarding the age of the universe.
How I Wonder When You Are
There is a wonderful thing about looking at the stars that is very different than looking at anything we see on earth. As I look around me in my office I see things that exist right here with me right now. Some things are close to me and some things are far, but what I see in front of me is happening right now, just as I see it.
It's different when I look up at the sky. As I gaze into the sky I don't just look across the space that separates me from the objects I observe, I look across time.
The closest star to the earth is, of course, our very own Sun. Even though it's the closest star, the Sun is so far away that it takes about 8 minutes (500 seconds) for its light to reach the earth. That means when I look up at the sun I don't see it as it is, I look into the past and see it now as it was 8 minutes ago.
The closest star system to the earth is Alpha Centauri. It's about 4.3 light years away. The closest galaxy is the Andromeda Galaxy, which is visible when you look up at the night sky. The Andromeda Galaxy is about 2.5 million light years away.
I think that's amazing. When you look up at the sky (if your eyes are good enough and if it's dark enough) you can look at one object and see 8 minutes into the past, you can look at another and see the past of 4.3 years ago and yet another to see the past of 2.5 million years ago.
As we look up at the stars, what we have before our eyes is a living timeline of the history of the universe.
Or can you? If we follow the literalistic reading of Genesis 1, then you can't possibly be seeing the Andromeda Galaxy as it existed 2.5 million years ago since it didn't even exist until 6,000 years ago!
When I first heard of this problem it seemed to me to be no problem at all. After all, the Bible indicates that Adam and Eve were created as adults, so why couldn't an all-powerful creator have spoken everything into being as an already "full-grown" universe, so that the stars in the sky were formed along with their light rays already reaching earth on the day God created them?
More Complicated Than it Seems
At first glance, that might seem like a satisfactory resolution to the apparent contradiction. The problem is that there is more to the night sky than just the stars that dot the black cloak of night. For example, using data from the Hubble Telescope, scientists have put together the Hubble Ultra-Deep Field, an image of a small section of universe that is so far away, the image reveals galaxies as they existed 13 billion years ago. When NASA's James Webb space telescope is deployed (October 2018), we should be able to see the universe as it existed just 200 million years after the supposed big bang (13.6 billion years into the past). According to scientists, these images show us not just galaxies, but galaxies being formed.
If we can look into the universe and see objects in the sky in various stages of development, we can begin to see not just the objects themselves, but we can see how they interact with one another, how they develop over time and, perhaps, we can begin to understand how our universe came into being.
Let me tell a story to help drive this point home.
The Science of Cosmology: From Speculation to Direct Observation
In the following story, I will be recounting a discovery of the Cosmic Microwave Background, which for many scientists is the most important discovery of the 20th century and a very important confirmation of the big bang theory. However, if you believe the big bang theory is false, please don't be put off by my approach. My point here is not to provide evidence for one model or another. All I want to do here is establish the idea that as we look into the sky we observe more than just static objects. We observe cosmic events and so make observations that help us better understand the workings and history of creation. This is a point that everyone should agree on. We are all looking at data and trying to interpret it. What I'm relating here is how most scientists interpret a certain set of data.
The story begins in 1959 when Bell Labs built a horn-shaped antenna in Holmdel Township, NJ (for a more detailed and interesting version of this story see the 2014 article by WNPR). This antenna was designed to work in conjunction with a commercial satellite system. Shortly after it was built, however, a new satellite was deployed that made its system obsolete.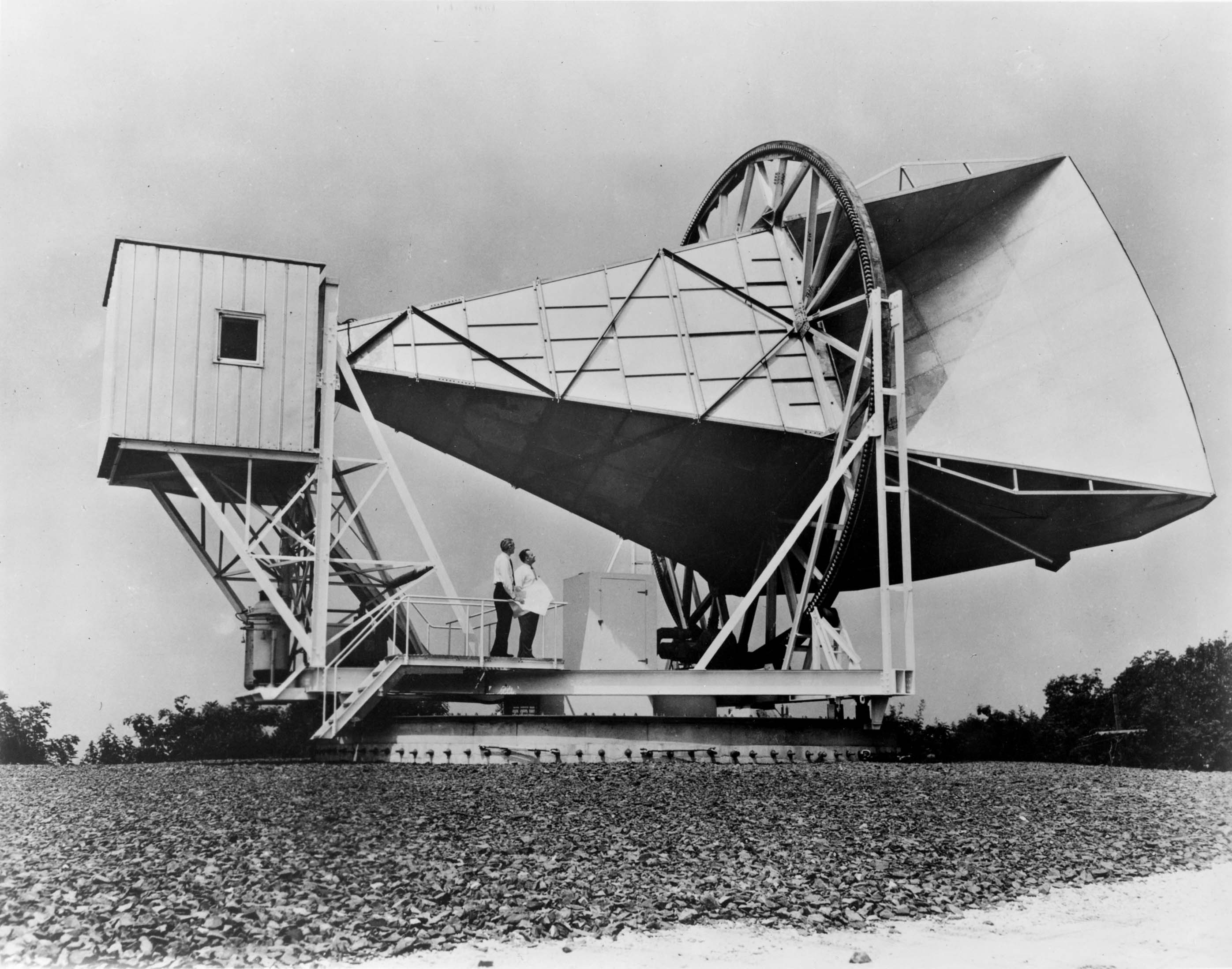 In 1964 Bell Labs decided to make continued use of the antenna by assigning two astronomers, Arno Penzias and Robert Wilson, to the task of using the antenna to research how radio signals pass through the atmosphere. They began calibrating their new toy by pointing it to a quiet part of the sky. In doing so, however, they became aware of persistent static. At first they postulated that it may be coming from the radar of a nearby airport. Or perhaps it was due to the pigeons roosting in the horn of the antenna. Eventually, they ruled out these possibilities, going so far as to clean out all the pigeon droppings. In the end, they were able to determine that the static noise was coming from everywhere in the universe and they were even able to calculate that the radiation corresponded to a temperature of just three degrees above absolute zero (3 K).
At the same time that these two astronomers were shooting pigeons, a physicist named Robert Dicke was trying to design an experiment to test the theory that the big bang, if it really happened, should have left residual, low level radiation throughout the universe. Before he could design his experiment, however, he was contacted by Penzias, who explained the problem they were having with their antenna. Based on the data they were able to share with him, Dicke immediately recognized that the microwave noise discovered by Penzias and Wilson was the low level radiation that was predicted as a remnant of the big bang. Part of the confirmation included the fact that the radiation came from every part of the universe and that it corresponded to a glowing body of three degrees Kelvin, just as the theory predicted.
Wisdom from the Stars
And so goes the story of the discovery of the Cosmic Microwave Background. This is the radiation given off during the earliest stages of the big bang (when the universe was less than 400,000 years old). It's amazing that one team of scientists found radiation as they looked into the sky, radiation coming from everywhere, and their observation matches just what is predicted by the process of the big bang, as developed by another team of scientists at about the same time. For some scientists this is the most important discovery of the 20th century. In fact, as a result of this discovery, Penzias and Wilson were awarded the 1978 Nobel prize for physics. But for many scientists, the importance of their discovery goes beyond its support of the big bang theory. For them, this discovery marks the point in time when the science of cosmology moved from the realm of speculation to observation.
Some people will quarrel with how this story gets told. They point out that the original predictions were that the temperature of the radiation would be 5 K, not 3 K, and that scientists had to fudge the results to make it fit. That's partly true and no matter how well the data fits the curve there are some estimations of initial conditions and speculation as to whether or not everything is factored in that could potentially influence the results. And it's true that I'm not a scientist and I don't understand all of this. However, it is also true that the predictions (based on very reasonable estimations of initial conditions, etc.) fit the observed data with alarming accuracy and we need to consider what this might mean.
In essence, in the sky we see a chain of cause and effect that stretches through the vast expanse of time all the way back to the beginning of creation itself.
Consider, for example, that there is more than just this one prediction with its corresponding set of observed data. Consider Einstein's equations and the number of ways that these predictions have been proven accurate when we measure how time slows down at high speeds, how space bends around a massive object or how gravitational waves form and travel through space. Consider how physicists predict the existence of elementary particles and then perform experiments and discover, sure enough, those particles exist. And consider that some of these exotic equations that describe the more esoteric parts of our universe are actually used in every day life–like for keeping accurate time on our cell phones or finding our location accurately using satellites. And all of these things are not independent but they're really based on quantum mechanics or the general theory of relativity–two systems of equations that describe creation with uncanny accuracy.
Potential Deep Conflict Between Scripture and Science
The point is that the same system of science, even the same equations that have made all these discoveries possible, are indicating that the universe is 13.8 billion years old. Yes, it's true, it's not quite the same. There is still room for error. And yes, we know that quantum mechanics and the general theory of relativity as we currently understand them are incompatible so there's a lot we don't know. But the evidence for an old universe is coming from many different avenues of discovery and the evidence is piling up. So much so that what is at stake is wisdom itself.
What is at stake is wisdom itself.
Every night, as we observe the stars in the sky, we look at far away objects. And they are not just far away in space, but far away in time–apparently further than 6,000 years. If God made this creation according to his wisdom and if he gives us wisdom to observe and discover order in his creation, then the stars in the sky should give us pause.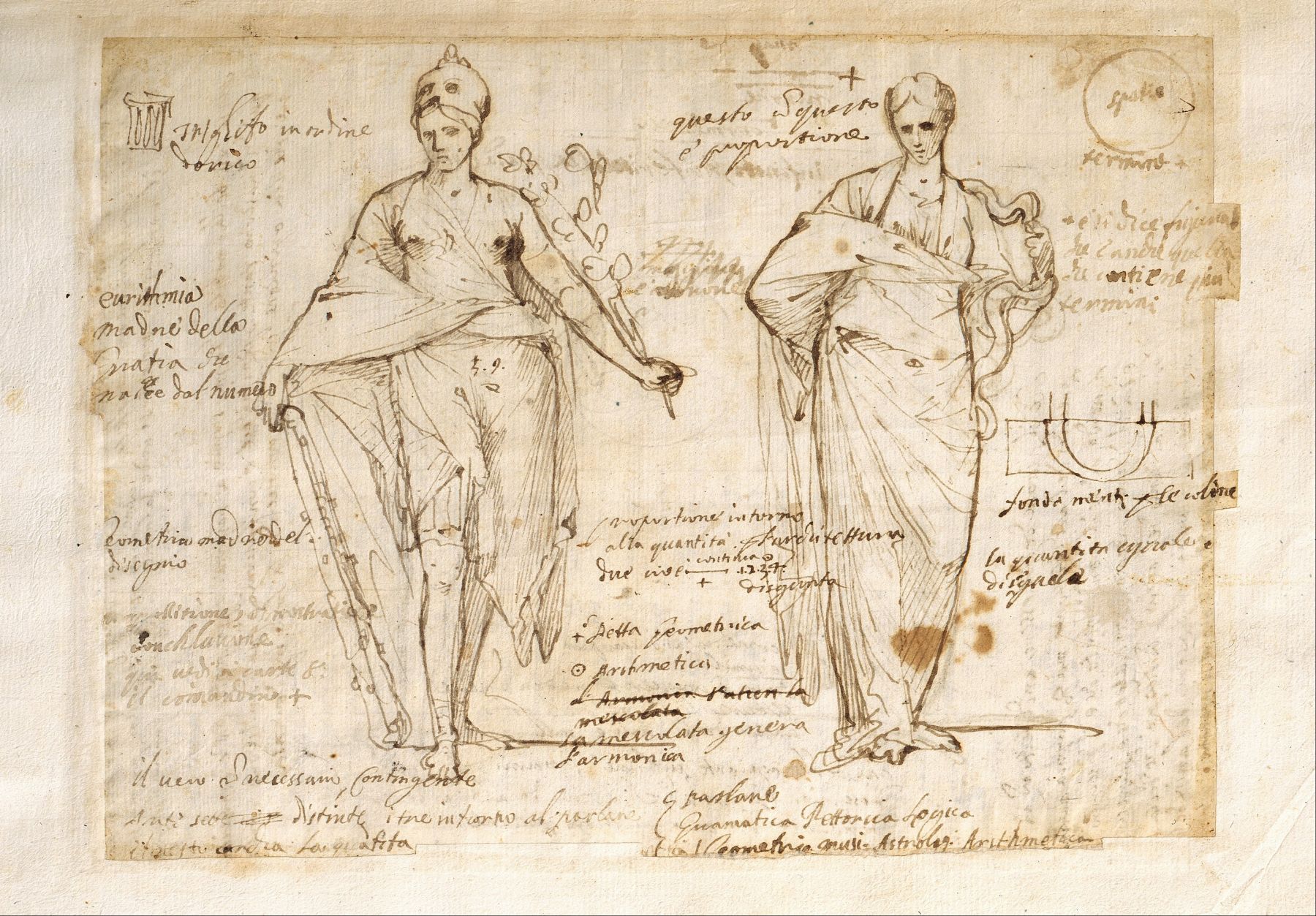 Are we reading Scripture right?
Maybe it's time, like it was during the time of Copernicus (before Galileo!) to rethink our habits of reading Scripture. Maybe a closer look will show us that we have made Scripture teach something it does not actually teach.
St. Augustine once warned us of this. In his final attempt at writing a commentary on the literal meaning of Genesis, there were cases when he found more than one possible meaning in a text and he would give each of the options without choosing one as the best. In those cases Augustine would not just arbitrarily choose one reading over another but he showed his humility in affirming only what Scripture surely taught. Here's what he says in Book VII of his The Literal Meaning of Genesis.
"To say the right thing is to say what is true and appropriate, not arbitrarily rejecting anything or thoughtlessly affirming anything so long as it is doubtful where the truth lies in the light of the faith and Christian doctrine, but unhesitatingly asserting what can be taught on the basis of the obvious facts of the case or the certain authority of Scripture." –St. Augustine
In what follows, I want to challenge us to be as careful as St. Augustine. Let's pay attention to what the text in Genesis 1 is teaching and let the text speak for itself without bringing in our own expectations or presumptions. Let's read carefully and see what the author is trying to tell us.
---
The Evangelical's Creation Conundrum: Navigating the Scylla and the Charybdis of Science and Scripture
The Paradox of Perspicuity: How Would a Regular Person Ever Understand Genesis 1 This Way?