I can't really recall when I've ever looked at a classic piece of artwork and felt like I understood all those things about the lines and the blah, blah, blah, that you can read in some of the art critics' commentaries. But as I was selecting a piece of art for my next theology post (The Story of the Book of Acts) I noticed something really interesting about Rembrandt's piece on the Stoning of St. Stephen pictured above.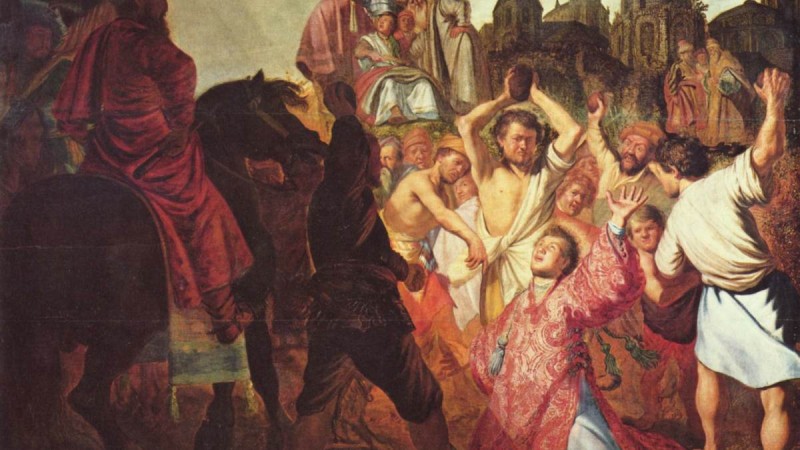 Blah, Blah, Blah: The Juxtaposition of Stephen and Paul
As I explain what I see in the painting it might help to click on the image above to get a larger view. (Most of my posts will do this.)
I suppose as you first look at the painting your vision naturally focuses in on Stephen since that is where the brightest light is and the figures that are stoning him are naturally poised in such a way as to be practically pointing at him.
Next, if you look especially on the left at the gradual movement from dark to light you will notice it's not always so gradual (an effect I've come to learn is called chiaroscuro). Especially at one point there is an actual line that creates the transition. It also creates a path or a beam inside which all the main action of the painting takes place. Everything outside the beam is background.
Now, if you look at Stephen's gaze and follow it up the beam, then you see that your gaze leads you across the image seated at the top of the drawing. This figure is in the beam, and not in the background. In fact, you'll notice that this person is at the apex of the painting. If you know the story of the stoning of Stephen fairly well, you'll probably surmise that this is Saul (later Paul).
Now this is cool. Both Stephen and Paul are prominent images in the painting and they are placed in such a way that by following the gaze of Stephen you can hardly help but look from Stephen to Saul to Stephen to Saul. If you do that, do you notice anything?
It's as though Rembrandt copies the face of Stephen and places it on the body of Paul. It's the same face with the same features and the same gaze.
So now we can interpret this painting. There is Saul sitting in judgment of Stephen, giving approval of his death. But even though he doesn't realize it, he is casting the exact same gaze as Stephen. In other words, Saul does not realize it, but he is about to follow in the footsteps of Stephen.
It's amazing how Rembrandt has captured in his painting the very same irony that's conveyed in the text. That's the power of mimesis (not bad for the first painting of a nineteen year old Rembrandt).