Way back in the first post of this series (December 2009!) I suggested that the frame question for this series will be:
Should we view the creation account of Genesis 1 as a cosmology or a cosmogony?
Toward an answer to the question I will review some of the more important points I've tried to make throughout the series and, in the end, point out a few of what I think are some wise attitudes to take in reading Scripture. In a roundabout way, this is my answer to the original question, which had to do with the gap theory (see the first post for a fuller explanation).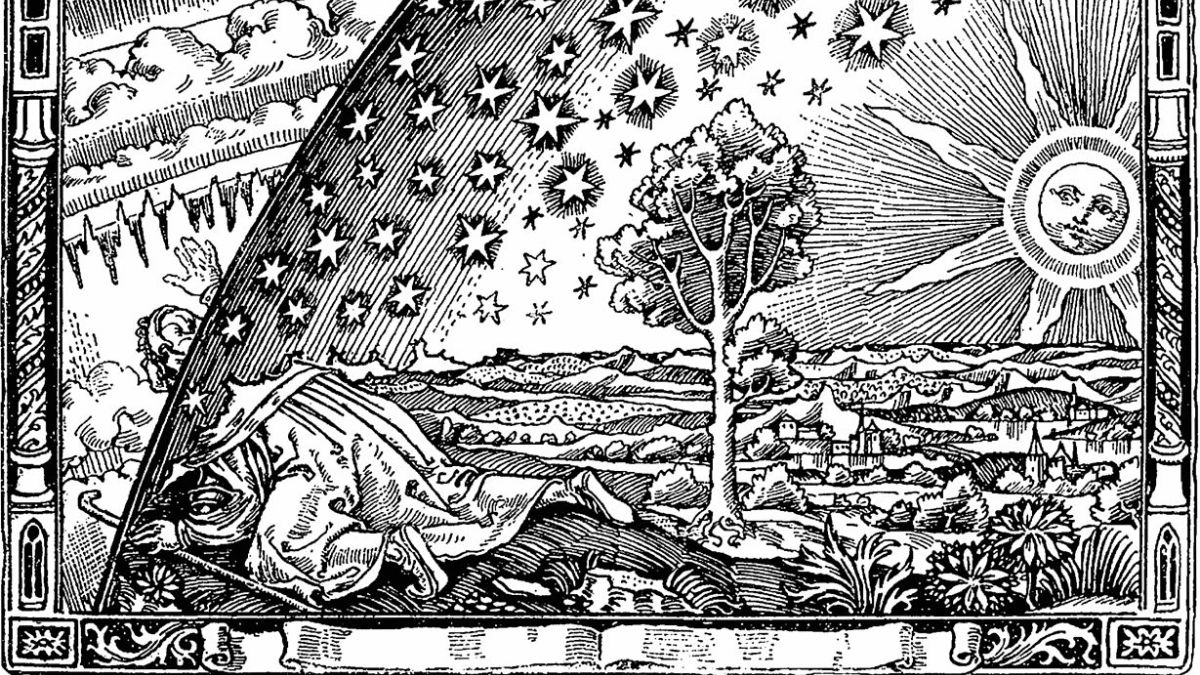 Cosmology or Cosmogony?
The first thing we need to do is understand our frame question. What is the difference between a cosmology and a cosmogony? Of course the difference is the suffix. The suffix of cosmology (logos) is added to a word when you want to talk about the science or study of something. So a cosmology is simply a study of the cosmos or universe and includes studies of its origins function and development.
The suffix of cosmogony, on the other hand, comes from the Greek "gonia" which is related to becoming or coming into being. So a cosmogony is an explanation of how the universe came into being. Cosmogony then, is interested specifically in the origins of the universe.
Now we can see how the two are related, Since the focus of cosmogony is especially the origin of the universe, it is really a subset of cosmology, which looks into everything from the origin of the universe to its function and development. In other words, we can think of cosmology as a broader field of study that includes cosmogony.
In that case, we can say that sure, Genesis 1 is a cosmology. It does deal with the origins and ordering and functioning of the universe. But is it a cosmogony? Hmmm.
As it turns out, ANE creation accounts are usually referred to as "cosmogonies" rather than "cosmologies." I don't agree with that nomencalture.
It seems the reason we don't usually talk about the ANE accounts as cosmologies is because we often equate cosmology with "physical cosmology." Physical cosmology has its origins with Einstein's theory of general relativity, is therefore scientific, and addresses questions about the formation, evolution, and structure of the universe. However, in a broader scope of history we can also talk about "religious cosmology" and "metaphysical cosmology." In each case (including "physical cosmology"), because every cosmology is concerned with the structure (order) of the universe, it takes into consideration the place of humans in the universe. A cosmogony, on the other hand, is concerned only with the origins of the universe. That is why I think it is a mistake to refer to ANE creation accounts as cosmogonies. They deal with issues that are not necessarily within the scope of the origins, in fact, they do not primarily deal with issues of origin, but rather with the organization, function, and structure of the universe or things in the universe, albeit more philosophically or theologically than we generally think of in terms of cosmology.
Lighted Discussion
The original question posed for this series had to do with whether or not I think Genesis 1 teaches the seven day creation or the gap theory that would allow for a long period of time between Genesis 1:2 and 1:3. If you peruse the blogosphere you'll find plenty of heated debate going back and forth on this issue with each side claiming the other has strayed from the orthodox view.
In my opinion, both sides of the debate have tried to make Genesis 1 into a cosmogony that primarily addresses questions of origin (when, how, out of what, how long, etc.). I've tried to show that Genesis 1 is not primarily concerned with questions of origin but with questions of ordering. (who, for what purpose, why).
In the process of doing this we looked at both the narrative and poetic nature of the text. Despite the fact that Genesis 1:1-2:3 is clearly structured as a narrative text (see post 2), it also exhibits clear poetic shaping. In fact, it is through the poetic shaping of the text that we find the author's intent in writing (see post 3). Creation was meant to be an environment, designed for people, where they find all the things they need for blessing and perfect rest in fellowship with their benevolent creator.
That's what we discover when we look just to the narrative and poetic shaping of the text. When we look to other ANE texts (starting in post 4) we find it quite likely that the metaphor being applied to creation is the metaphor of the temple or sanctuary (post 5). The temple is the space that has been created for people to interact with and be in fellowship with a holy God. Our current experience is one of separation from God, but the original creation was meant to be like a holy of holies–that is, the place where God's presence is most fully experienced. In Genesis 1, creation was the place where people were meant to be in an intimate relationship with a holy God.
So the creation account tells us what creation was meant to be. The use of the temple metaphor takes us beyond what creation was meant to be and points us to what creation will become once more. Remember that the temple as a metaphor for God's relationship to people was the everyday experience of the first readers of Genesis. When they read Genesis 1 as a temple they didn't read it as the creation that was-but is no more; they read it through their own experience of temple. Their temple experience taught them to look forward, it held out to them the hope that God's full presence in creation could be attained through the sacrificial system. The physical temple (or tabernacle) in Jerusalem (or in the midst of the Israelite camp) was a constant reminder that Genesis 1 is a vision not only for what once was but what should be and what will be once more when God overcomes the curse.
I believe this is what Genesis 1:1-2:3 teaches us about creation.
Wise Reading
So why has our focus been drawn away from this kind of a reading to a reading of secondary issues in the text? This is where I agree whole-heartedly with John Walton and others. With our modern, mechanical worldview we want to know how things are put together and how they work. We are accustomed to cause and effect relationships and so we follow causal relationships back to their origin to find out where things came from. Combine that with a belief that poetry is mere flourish incapable of conveying objective truth about the world and you have a recipe for a reading strategy that is almost completely oblivious to the intention laying in plain sight if we only had eyes to see.
If we want to be wise readers of Scripture then we want to be people who are open.
Sometimes, because of the cultural battles we face, we have developed certain evangelical orthodoxies (on issues like creation, evolution, etc.). As a result, instead of coming to Scripture and letting it speak to us on its own terms we come with an agenda. We want to find out what arguments we can glean from Genesis that will arm us against our adversaries. That kind of approach to the text is closed.
Being open as a reader means first of all realizing that we are not the primary recipients of the text. Genesis was written to a specific group of people, in a specific culture, in a specific situation more than 3000 years ago. We need to be sensitive to that fact and do everything we can to put ourselves in the shoes of an "other," before we can bring the truths of the text to us. Being sensitive to an other in the text helps us be more sensitive to the views of the "others" we face in cultural debate.
If we want to be wise readers of Scripture then we want to be people who are diligent.
In our evangelical culture we put a lot of emphasis on daily quiet time. In our daily quiet times we come to Scripture, read a few verses and meditate on what the Spirit is saying to us today through those verses.
There's nothing wrong with that–I'm all for it. However, there is something very important we need to remember when we do that. The Holy Spirit doesn't create a new meaning for the text that we then apply to our situation. The Holy Spirit works through the meaning that the original author intended in the text. It is the author's original meaning that is inspired and has God's authority.
That truth has some very important implications. When we come to Scripture in our daily quiet time and expect the Spirit to speak to us through a few verses, even that cursory reading should be based on the original author's intended meaning. That means it needs to be backed up by diligent study.
I'm sure there are many other wisdom characteristics that we could bring to the discussion but these are two that seem most apropos for this debate.
---
Other posts in the series: Genesis and the Big Gnab Theory